The School of Art and Design is a creative learning community in which students develop their practice as artists, designers, and art historians who work in and across media while enhancing their technical skills, historical and theoretical knowledge, and visual, material, and conceptual thinking within the context of the School's commitments to social and environmental justice and innovative entrepreneurship, as well as its location near the U.S.-Mexico Border and on the Pacific Rim.
Explore Our Degree Programs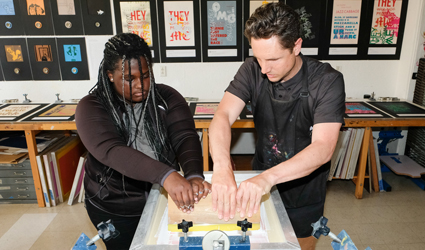 The School of Art and Design offers undergraduate degree programs that reflect the diversity of contemporary practice in visual art and design. Through both discipline-specific and multidisciplinary approaches to teaching and learning, we support students to innovate solutions, express ideas, imagine possibilities, and interpret the world through historical, cultural, and global contexts.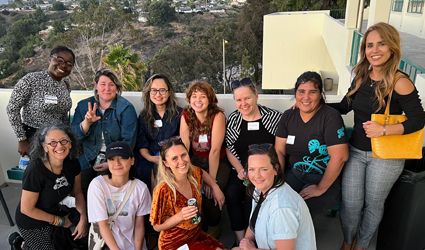 The Master of Fine Arts graduate degree program at the School of Art and Design offers a robust learning experience, led by renowned faculty in their respective fields. Intimate class sizes allow development and exploration in any medium, with a supportive environment that provides a strong foundation for developing creative careers.
Visit Our Galleries
The Gallery Program bridges a diverse Southern California university community and public audience through scholarly, experimental, and socially conscious presentations of contemporary art and design. Comprising the University Art Gallery, the Flor y Canto Gallery, the Everett Gee Jackson Gallery, and the Installation Gallery, the Gallery Program creates opportunities for students, faculty, and contemporary artists and designers at all levels of their careers.
Events & Exhibitions Calendar
Stay up to date on School of Art and Design events, including Gallery Exhibitions, Open Studios, Visiting Artists and Scholars, Amplify Lecture Series, and more.
Upcoming Fall Exhibition: Rachel Phillips
Holding Time, Tracing Light
Innovate. Create. Inspire.