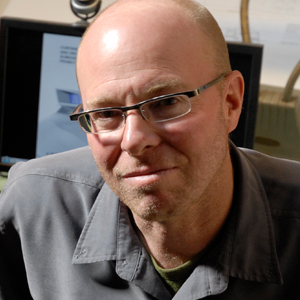 James Brown
Lecturer
Interior Architecture
San Diego
Bio
James Brown's work explores 'making' at a variety of scales, from furniture and public art to architect as developer and urban infill projects that redefine the role of architecture. His explorations exhibit a curiosity of process and cross-fertilization.
James Brown's career spans the fields of furniture making, public and gallery art, architecture and design builder. James does not draw distinct lines between these fields – rather, they complement, inform and cajole each other as well as ultimately strengthen the design solution. He has had success in the role of architect developer, having completed successful design build naturally affordable development projects in urban settings that redefine the role of the architect to something more akin to the original master builder. These projects are experimental in the way that they challenge zoning and planning constraints with the goal of creating affordable and duplicable strategies for other developers. In the Little Italy Neighborhood Development (LIND) project, the City of San Diego selected James and his team to envision what a city block could be at its best, which set a real model of development for future projects to emulate. The project, located in the Little Italy district, parceled out the whole block parcel into micro lots and 6 different architect / developer teams worked together to allow views, sunlight, and open interior courtyards to blossom. This project won a Directors Award for Housing Development Excellence through the State of California Department of Housing and Community Development and was published in Architectural Record, Spazio Casa, and Décor and Style. Brown designed, developed and spent 1 year on site as foreman and laborer, which allowed a hand built product utilizing 'found objects' in the form of recycled windows, doors, and other materials. This direct architecture allowed the designed process to continue to virtually the end of the project. Natural affordability with no subsidies is true affordability, especially in the post-redevelopment era. James is renovating a 40,000 sf former Weber Bakery into LiveWork spaces for craftspeople in Logan Heights, located on the outskirts of downtown San Diego. Providing workspace for the area's craftspeople and artists is central to the scheme.
The work has garnered numerous design awards, has resulted in publications locally and nationally, and he has established a national presence. He believes in the credo of Roots, Deeds, and Feats. Remember your history and build upon it….give to your community and colleagues….and attempt the improbable from time to time.