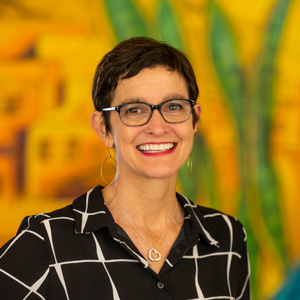 Annie Buckley
Professor of Art and Design
Associate Dean for Faculty Advancement
College of Professional Studies and Fine Arts
San Diego
Email

Location

PSFA-212

Links
Bio
Annie Buckley is an artist, writer, curator, and award-winning educator and leader with an emphasis on art and social justice. Her work embraces image, text, and social practice and has been including in exhibitions for three decades. She is the author of more than 250 reviews and essays in leading publications including Artforum, Art in America, The Huffington Post, and Los Angeles Review of Books, for which she is a contributing editor, numerous books for youth, and three works of fiction published with collaborative multidisciplinary art projects. She is the curator of exhibitions including, "Disruption! Art and the Prison Industrial Complex" at Pitzer College, and co-founder and co-editor of the online publication, "Radical Actions: From Teaching Artists to Social Practice."
Buckley is the founder and director of Prison Arts Collective (PAC), a statewide university-prison partnership in California dedicated to expanding access to the arts and leadership opportunities to people experiencing incarceration. PAC engages students, alumni, and faculty co-facilitate arts programming in 12 state prisons and is based at SDSU with chapters at CSU Fullerton and Cal Poly Humboldt and an interdisciplinary research team with CSUSB and UC Irvine. PAC has taught over 5000 participants since 2013 and has been featured in numerous publications, including The Guardian and the Los Angeles Times. Buckley has been awarded numerous internal and external grants and contracts for this work, including continuous funding since 2016 from the California Arts Council and three highly competitive Grants for Arts Projects from the National Endowment for the Arts.
In 2019, Buckley was named Outstanding Faculty, the highest faculty honor, at California State University, San Bernardino; and also received formal recognition in the California State Senate for her leadership of PAC. She joined SDSU in 2019 as Director of the School of Art and Design and Professor of Visual Studies. In 2022, she took on leadership as the founding Director of the Institute for the Arts, Humanities, and Social Justice in the College of Professional Studies and Fine Arts (PSFA) in collaboration with the College of Arts and Letters and Research Advancement Fellow for PSFA with the SDSU Division of Research and Innovation. She is scheduled to return to the School of Art and Design in summer 2023.
Buckley is faculty member of the national honor society, Phi Kappa Phi, and received a BA with Honors from UC Berkeley and a Masters in Fine Arts from Otis College of Art and Design. She holds a California Teaching Credential with specialization in Bilingual/Bicultural (English/Spanish) and Art Education and completed the Women's Executive Leadership Training from UC Berkeley Haas School of Business in 2019.
For more information, please visit anniebuckley.com and prisonartscollective.